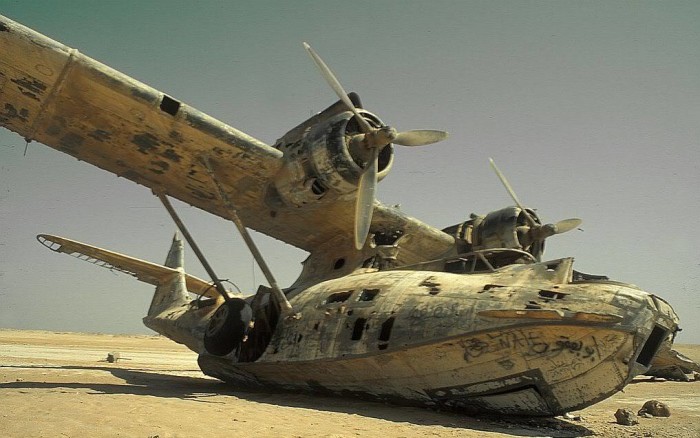 Over the Mid-Atlantic via Puerto Rico, Brazil, West Africa to Egypt and Sebastopol. The North Atlantic route via New Foundland, Iceland to Murmansk and the Alaskan route via Kodiak to Vladivostok and on via Siberia to the German front at the Baltic and Black Sea for ASW and patrols against the Kriegs Marine. In 1944, the Russians also received a large number of the more advanced PBY-6A Nomad, equipped with radar for more efficient Submarine tracing.
Also well visible are the outer wing mounted retractable floats, a patented design from Saunders-Roe that saved drag in normal flight when the floats were hinged/ folded to become the wing tips.
The Catalinas were most extensively used as anti-submarine warfare (ASW) aircraft during WWII in both the Atlantic and the Pacific Ocean and were also used in the Indian Ocean from the Seychelles Islands and Ceylon. With its unparalleled flight range, only the Cat could fly from Ceylon non-stop to Perth, Australia.
Very cumbersome and one of the reasons that in October 1941, the PBY-5A was introduced with a tricycle landing gear, based on an earlier Grumman design. The PBY-5A was the version most built and stayed in production until January 1945. All Catalinas built after that date were designated as PBY-6A with eye-ball front turret, a taller vertical tail and most important, a radome over the cockpit for radar (see photo below).
Other improvements included larger fuel tanks, increasing range by 50%, and stronger wings permitting a 2,000 lb (908 kg) increase in gross takeoff weight. An auxiliary power unit was installed, along with an improved electrical system. Of the 156 PBN-1's produced, 138 served with the Soviet Navy. The remaining 18 were assigned to training units at the Naval Air Facility in Newport, RI. Later, improvements found in the PBN such as the larger tail were incorporated into the amphibious PBY-6A.
With my dad, we flew that aircraft a few times and I vividly remember the outrageous experience of the flights and runs over the jungle rivers of Borneo. That view would stay with me for the rest of my life and would later even be revived (photo courtesy Kelvin McCann, depicting the closest situation ever seen to what I remember from the Mahakam landings and the surrounding jungle in Eastern Borneo).
Z-CAT was later sold to NZ, went into a winter sleep for years and resurrected only recently for a new lease of life with a maiden flight in New Zealand, Bravo !
Hans Wiesman